I'm back with more Brindille & Twig! This is the Teenage Mutant Ninja Turtles outfit. It's actually the same patterns I used for the Pearl Jam outfit.
They have matching shirts! How cute is that?! Andres' Mom gave him his shirt for his birthday and we ended up going to Meijer to get another in XL for this project. I think it's adorable when they match since they already look like twins as it is.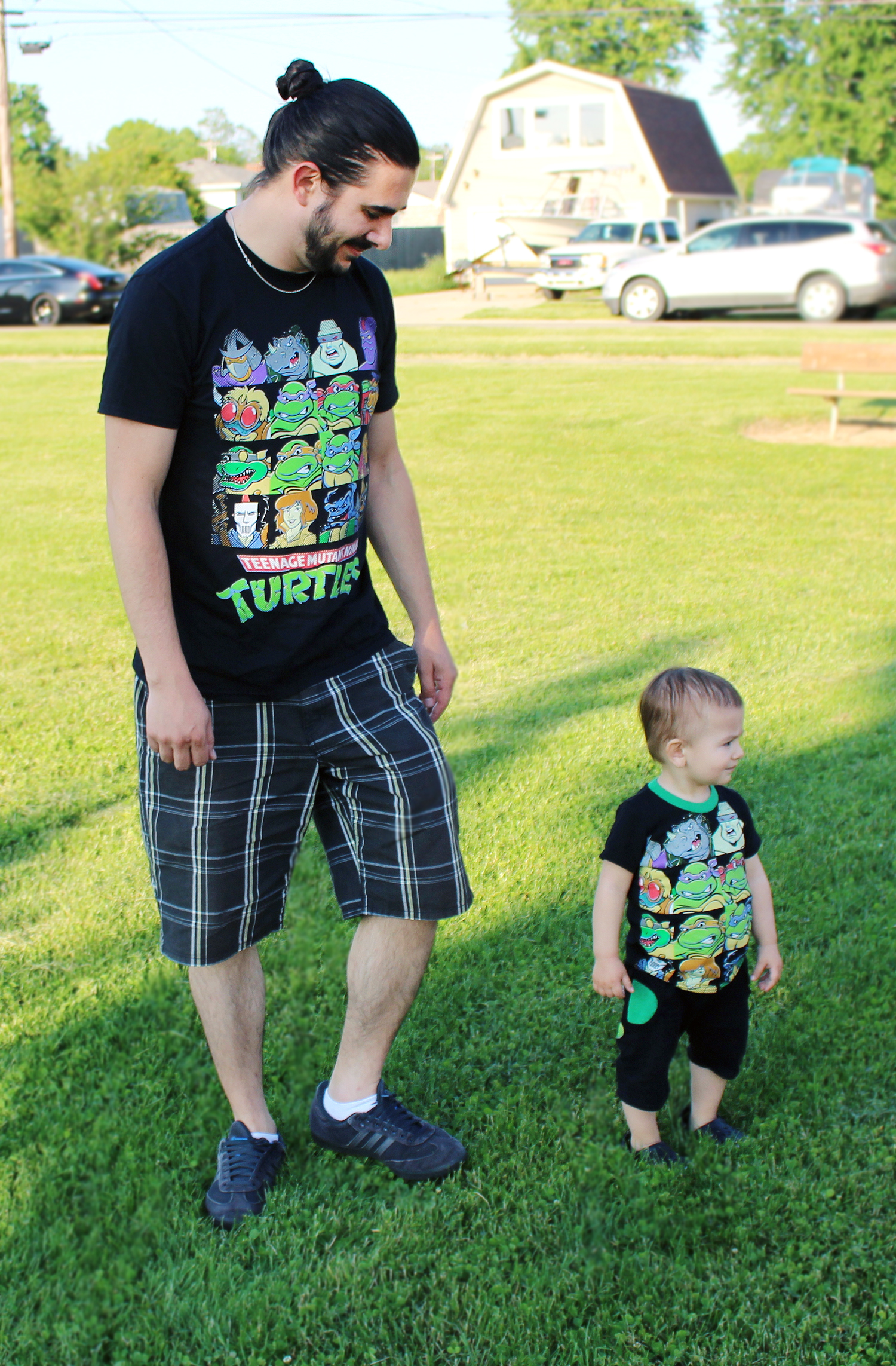 I didn't measure Nico this time around since I knew he just slightly is growing out of his Pearl Jam outfit, I figured I would just size up 1 size. That seemed to work perfectly. So I made him both the shirt and shorts in 18-24 months.
The shirt is the basic tee and is a must have basic pattern. Like I said above, I used the size 18-24 months and I think it fits perfect. The only alteration I'll make next time is that the neck hole needs to be bigger, I guess he has a big noggin'! I used all the parts of the tshirt we bought except for the neckline, I had that in my scraps from another ripped up tshirt.
The pants are the faux pocket pants.. I used size 18-24 months but shortened them to the 3-6 month length. At first I thought they were too long but I really like how they look on him. I did have to add fabric above the logo so it would fit into the pattern. You can't really even tell since it's all black. Once again all fabric is from the tshirt we bought, except the green pockets – that's from the same tshirt as the neckline.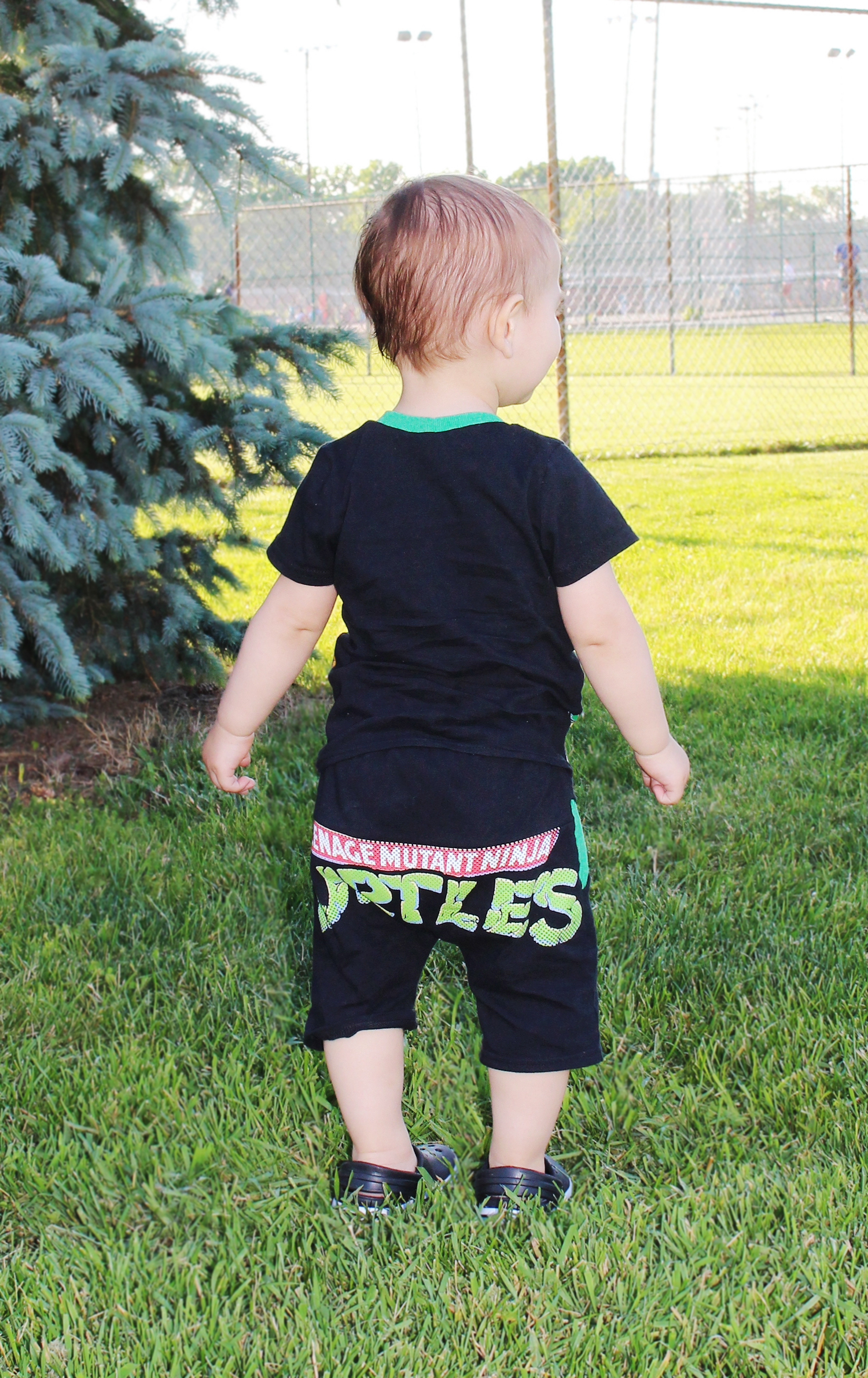 We took him to the park by our house for the photoshoot and I think it turned out pretty good! It's hard to get a toddler to stand still and model, so we have lots of action shots 🙂
I love upcycling tshirts like this. I typically use old band shirts or things lying around the house but this was totally worth the $12 we spent. That's not bad for a complete outfit!
The shorts fit him well but also have a lot of room to grow – so those will last all summer. The shirt fits him really well but I bet he outgrows it midsummer. I know last month he had a growth spurt and the next day none of his shoes fit and most of his clothes didn't fit! It's crazy how they literally grow overnight like that! He's getting so big, he needs to slow down and stay my baby forever <3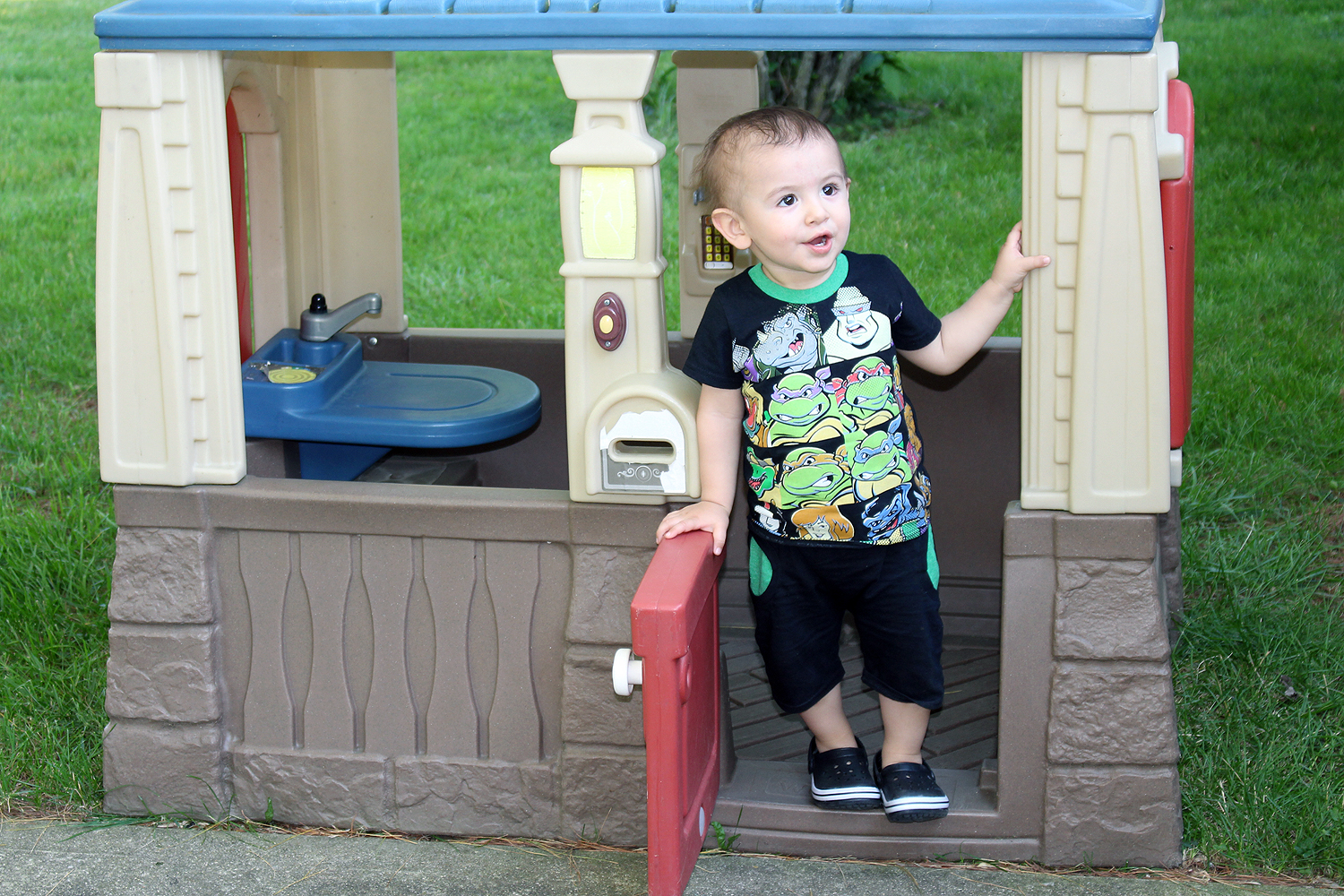 I tried to get a standing still shot but he wouldn't look at me. His Daddy was cleaning the gutters and he was mesmerized. We picked up this playhouse from someone selling it in their front yard for $30 – what a deal! He loves it and won't let anyone come him, not even the dog. I tried to clean it while he was inside and he had a meltdown. Now I clean it when he's not home but I swear he knows something has changed when he goes back inside!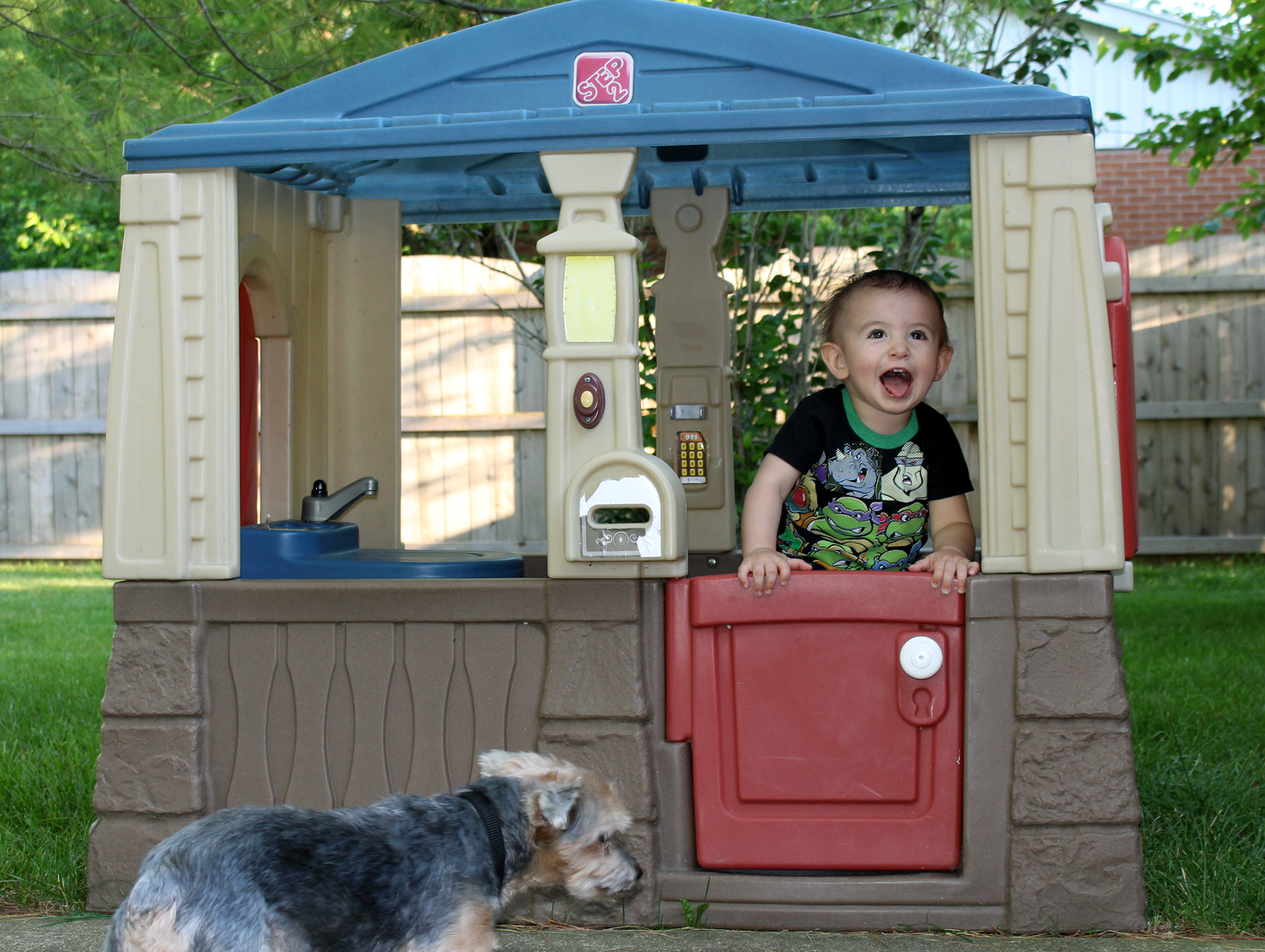 That's it here! I have a bunch more posts coming and am so excited that the weather is getting warmer. I love that Nico is at that age where he will enjoy summer and can interact with all the activities we have planned. Have a great Memorial Day holiday and thank you to everyone who has severed our great country!